No detail was overlooked on Diana and Anthony's big day. The beautiful event took place at the Rainbow Valley Wedding Barn and we were thrilled to work with this amazing and grateful couple! Take a look at how the planning process unfolded into a superb day had by all.
Venue
Rainbow Valley Wedding Barn is a hidden gem located in the sprawling fields and rural landscape of Caledon, Ontario. Guests, pulling up a tree-lined street, are welcomed to the entrance of the grounds with rustic wooden fences and charming landscapes. The barn itself boasts a whitewashed, country feel on the inside while the outside is updated with fresh paint, a new stairway, and double-tiered deck leading to the large barn door entrance.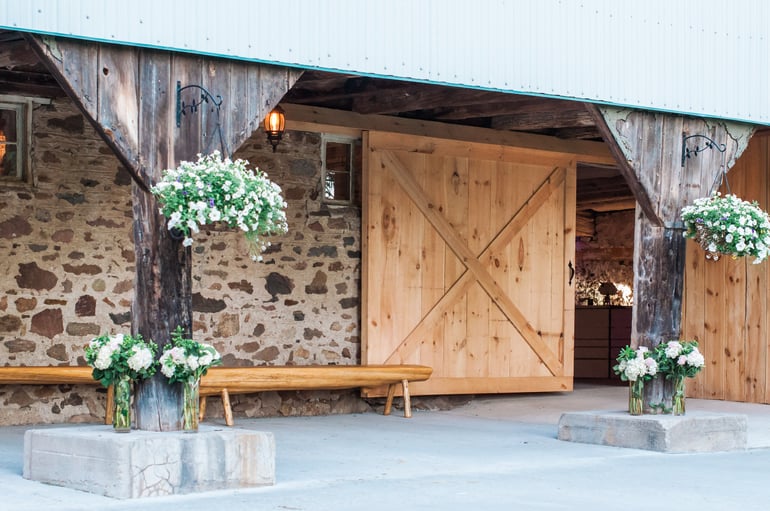 Diana and Anthony took advantage of both the main barn level and the 1800 sq. ft lower level that is equipped with original brick walls, exposed beams, and crystal-style chandeliers for a cocktail reception. The barn's main bar area is made of reclaimed wood and was the perfect place setting for mingling over cocktails and displaying delicious sweets.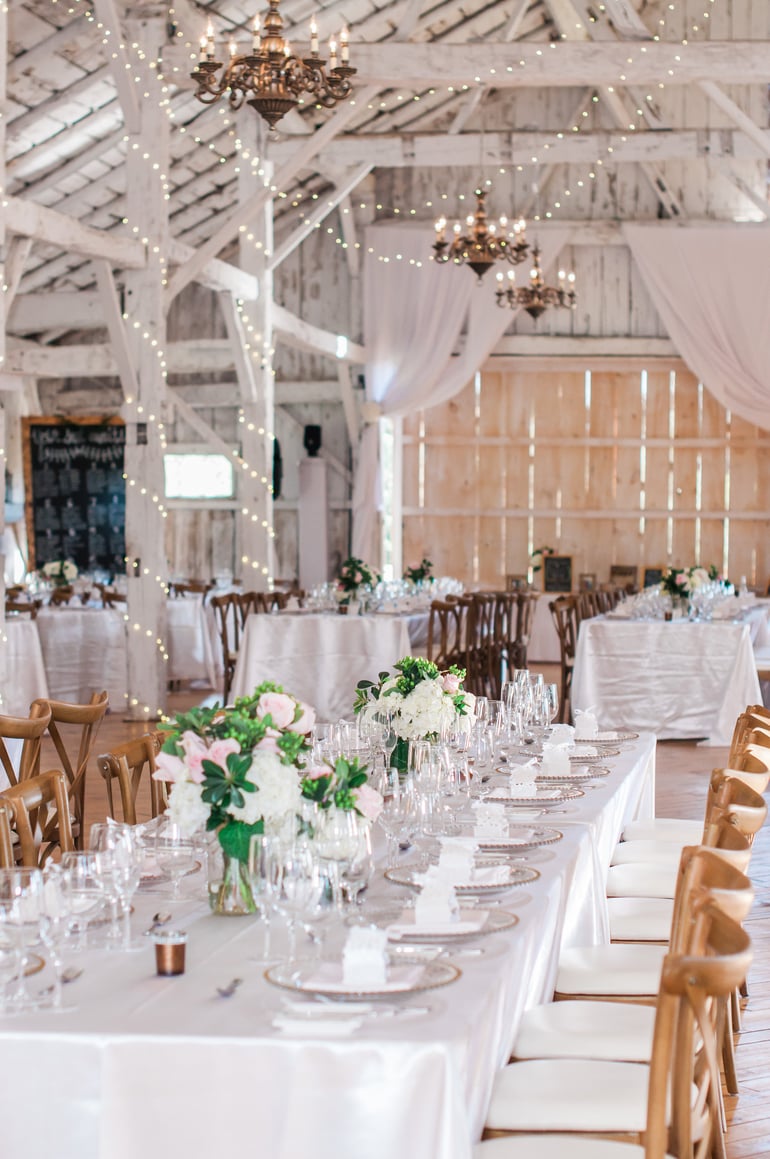 Theme and Decor
Diana and Anthony's wedding was a simply elegant affair that incorporated a rustic-chic theme. The bright, white details, accented with pops of baby pink and green foliage, were the perfect complements to the many glimpses of natural wood throughout the venue. The floral bouquets of roses and hydrangeas were elegantly displayed in tiered, ribbon-tied mason jars complete with lace doily detailing, and set on smooth satin table linens. The use of brass coloured glass candle holders were the perfect connection that effortlessly matched the old style chandelier lights located in the main reception room. The atmosphere was bright and airy with the presence of miniature lights that added a subtle, magical feeling to the entire space.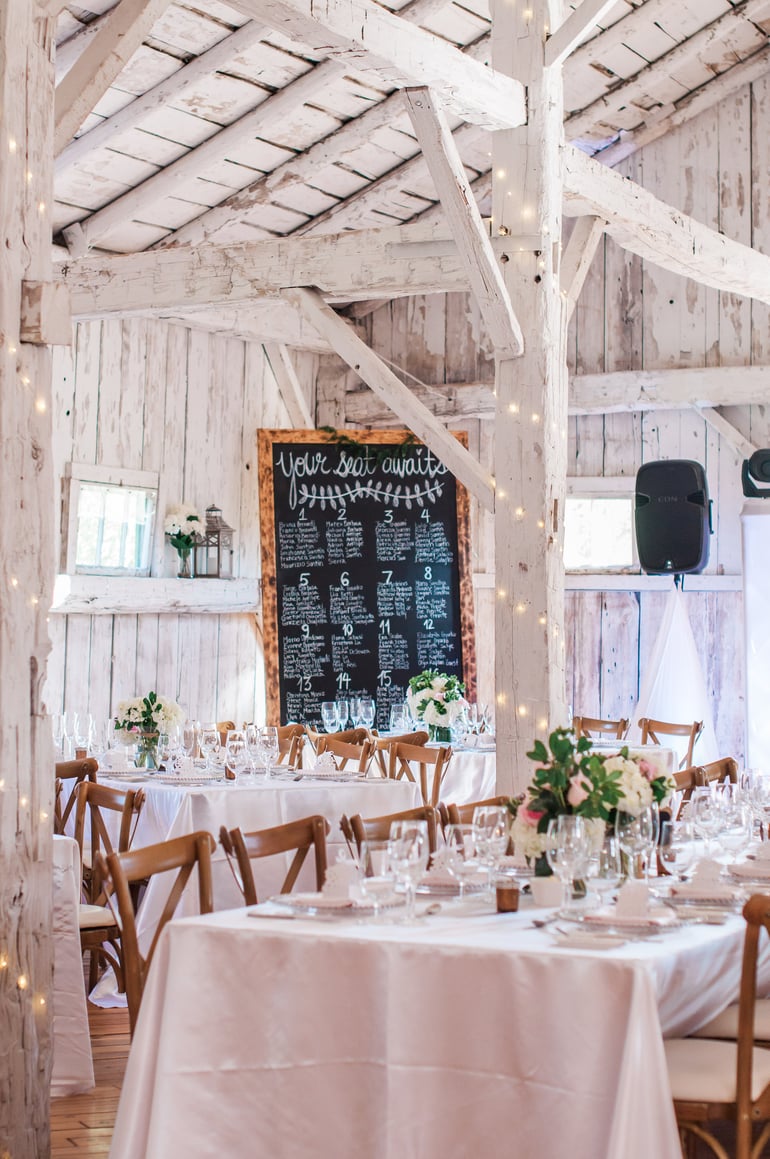 Food
The lovely couple started off their reception with an array of hors d'oeurves suitable for any taste and diet, including vegetarian options. The choices included:
Red and White Royal Quinoa Cup with soft herbs and yuzu vinaigrette, cucumber cup
Pressed Watermelonwith avocado, feta, and crisp shallots, balsamic reduction
Caprese Brochette with popcorn bocconcini, grape tomato, fresh baby basil, EVOO
Thai Mango Roll with watercress, mint, pea tips, opal basil, glass noodle, chili lime dip, soya syrup and sesame
Wild Mushroom Crostini with herbed chevron, sautéed wild mushroom and balsamic drizzle
Chicken Fritter withquenelle chicken and Sicilian eggplant & Parmigiano Reggiano aioli
Antipasto Brochette- skewered grilled spicy sausage and artichoke , roasted red pepper, and romaine
Once the guests were seated and the lovebirds introduced, a beautiful four-course dinner was catered to perfection.
A Spinach and Balsamic Glazed Pear Salad topped with candied walnuts, shaved parmesan cheese, and a white balsamic and Anjou pear vinaigrette was served first while the second course consisted of a beautiful, fresh Rigatoni a la Vodka with fresh rigatoni and vodka sauce.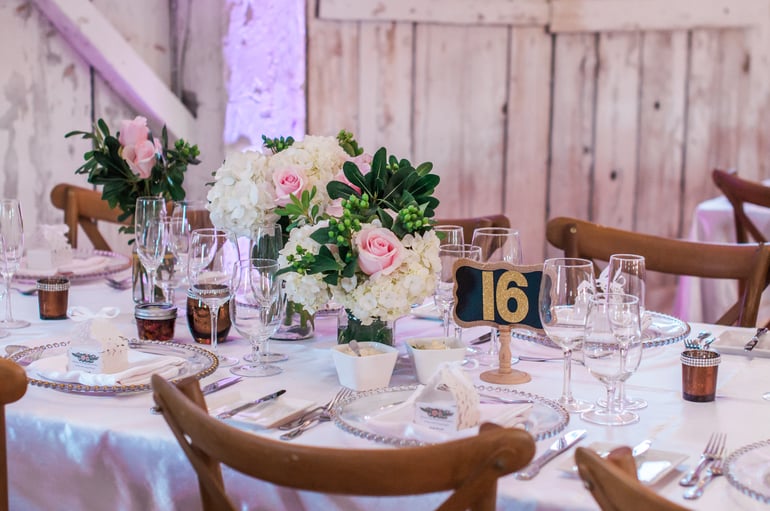 The couple's main course was served as a duo-entrée with Pan Seared Crispy Skin Chicken Supreme with saffron honey and pineapple salsa along with a Toronto Cut New York Strip Loin with a wild mushroom demi-glace. This was complemented by a baked vidalia onion with cracked wheat, roasted peppers, and sautéed spinach, topped with pine nuts and pram crumble, and sautéed garden vegetables.
Finally, the dessert course consisted of a Caramelized Apple Tart with oats, toasted hazelnuts, and cinnamon gelato.

Late Night
The twinkle lights were on and the accents of purple mood lighting added the perfect modern touch to this rustic chic wedding and the perfect backdrop to celebrate and dance the night away. With lively celebrations come hungry bellies and the late night savory station served up Poutine, Mini-Grilled Cheese and Meatloaf Sliders alongside a beautifully tiered sweets table. It was the perfect wrap up to a breathtaking (and mouthwatering) wedding.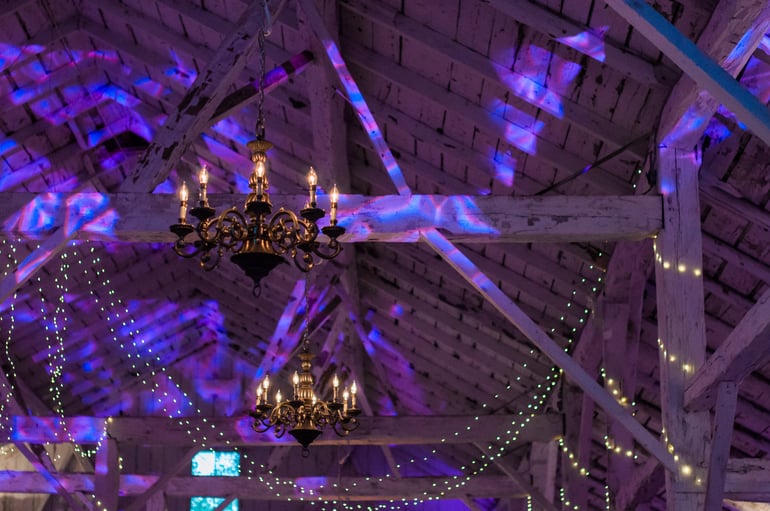 Photo credit: KG PHOTOGRAPHY