On February 20 [2020],

W Event Boutique

held their second Wedding Open House and as their in-house caterer, we were elated to join this event and showcase our new dishes. The turnout was great, and the team at Seventh Heaven loved meeting couples who were anticipating their big day. Whether you came alone, with your fiancé, or even your entire bridal party, it was a pleasure to discuss delicious food with anyone who stopped by the Seventh Heaven booth.

With over 20 vendors, we relished in the opportunity to connect with other creative minds in the event industry; and events like this remind us how important it is to connect with our peers. It also took some stress away from couples because not only were they able to see a variety of vendors in one convenient location, but they were also offered some amazing incentives.

Of course, our favourite part about the Winter 2020 Wedding Open House was seeing all of the attendees faces as they sunk their teeth into our mouth-watering dishes. We were proud to put on a display of our signature vibrant charcuterie table and we complimented it with two desserts: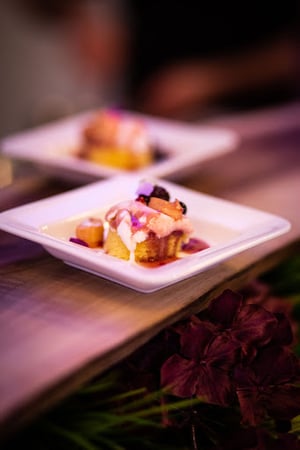 Raspberry Risotto
Carnaroli rice with fresh raspberries, drizzled with Prosecco and the best Italian cheeses

Banana Berry Flambé
French vanilla gelato sitting on top of a fluffy piece of sponge cake, complimented with flambéed butter ripple berries and banana [Pictured left]



As the night went on, there was one common question we kept getting asked by the couples that would stop to chat:

What's the one catering choice that [we] can't go without at our [2020/2021] wedding?

A late night station! Amidst all of the dancing and celebrating, guests will have worked up an appetite. A late night station is the perfect way to wow guests and to put the cherry on top to an incredible evening. At Seventh Heaven, we have such a great selection for you to choose from and we are more than happy to customize a late night station for you. So if you and your fianc

é

have a favourite midnight snack, let us know!






The turnout was great, we loved meeting couples at the show. A face-to-face meeting is always a great way to connect with Whether you came alone, with your fiancé, or your entire bridal party, it was a beautiful evening and Seventh Heaven Event Catering is looking forward to being a part of the next W Event Boutique Wedding Open House. Follow us on social media to stay informed about dates, incentives, and more!